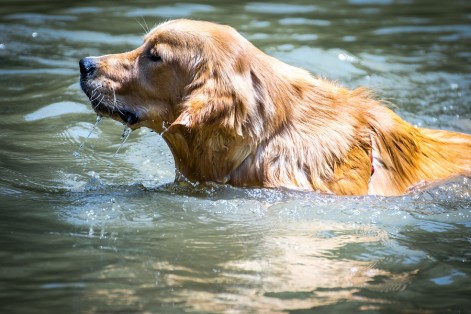 Wanna see a dog fish better than most humans? And in less time?! After watching this week's video selection, we promise that you're going to want to take your pooch on every single fishing trip from now on. Watch and be amazed as one highly skilled Golden Retriever shows you how an expert fishing pup catches dinner in a single snap:
Not bad, huh? Did you note the intense focus just before this champion "fisherdog" snagged her catch? She made the whole event just look so simple!
This beautiful Golden Retriever is named Rani and we've heard she does this sort of thing pretty regularly. According to her owner, she's caught dozens of fish and even catches a turtle or two here and there. Using bread for bait, Rani places it under her mouth and waits for her prey to come calling. If only the rest of us could fish so effortlessly, right?
Deja Vu
Have you ever seen a dog fish like this before? If you're a frequent visitor of this blog, you're probably thinking that this whole dog fishing bit sounds a tad familiar. Well, the last time we featured a cute little fishing dog, we agree that it was pretty doggone adorable, but even that cuddly cutie-pie can't compare to Rani's skill and her incredible catch of the day!
Does Your Dog Fish?

Have you seen a dog fish before? What do you think of Rani? Leave us a comment below and be sure to share this video of the week with fellow pet lovers and fishing enthusiasts. And if you have a pet who excels at fishing or some other sport, we'd love to hear about it. Send your video to social@fetchpetcare.com and maybe we'll spotlight it in a future Fetch! Pet Care video of the week!