Today, we share with you the joys of dog walking as seen through the eyes of our own Georgia Pratt. As a Fetch! Pet Care sitter in our Orlando, Florida location, Georgia has fallen in love with a most-deserving client! Here, we'll let you read all about it for yourself: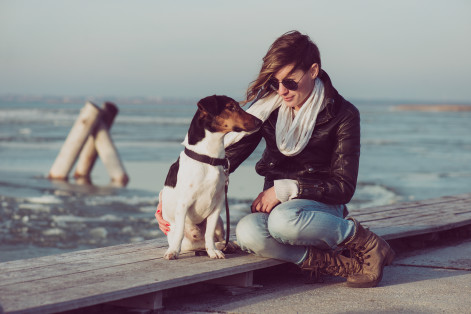 My name is Georgie Pratt. I am an artist in the Orlando area and a very happy sitter for Fetch! Petcare Orlando. I have been working for Fetch! for almost 2 years and I love what I do.
I am a crazy cat lady (I have 5! Lol!), but I have always loved dogs. Working for Fetch! gives me the opportunity to hang out and play with dogs that, otherwise, I wouldn't have. I love cats, but dogs have an energy that is very different. I feel like my life has been enriched by the various pets that I have spent time with and cared for.
I want to introduce you to Bonnie, a 9 year old Jack Russell Terrier. She has been one of my clients for about 7 months, but I feel like I've known her forever! Bonnie and I walk about 5 times a week – her mom is a nurse who works a lot of long hours. She feels badly about leaving Bonnie alone as much as she does. So, it's my job to lavish Bonnie with all the love and attention that I can during my visit – something that I do with pleasure.
When I first met Bon Bon (one of her many nick names!) she was rather shy. She was pretty reluctant to walk. In the beginning, Bonnie wanted to stay close to home. We didn't walk very far and she tended to dawdle. I was patient with her and let her lead me where she wanted to go. It wasn't long before the real Bonnie came out. We bonded pretty quickly and now Bon is anything but shy!
Now, when I arrive at Bonnie's, she is waiting for me at the door. She runs around with boundless energy and wants to play before we even get outside. Our typical routine is to walk to a boat dock on a beautiful lake behind Bonnie's building and watch the water. She loves to stand on the dock and feel the breeze as it blows off the lake. But we don't dawdle there because Bonnie really likes to run. Where once I had to coax Bon into walking, now I have to run to keep up!
I love spending time with Bonnie because she makes me feel loved. She's always happy to see me. I have had my share of "off" days – days when I wished I could just stay in bed. But, then I see Bonnie. The unconditional love and absolute joy that Bonnie radiates with is contagious. Just one 30 minute visit with Bonnie can turn my whole day around. I will always be a crazy cat lady, but this chubby little Jack Russell has made me a crazy dog lady, too. And I am very grateful for that!
Thank You Georgia!
Join us in thanking Georgia for such a furbulous guest post. We all feel and appreciate the un-fur-gettable bond that she shares with Bonnie! Leave Georgia a comment below and be sure to share her story on social media using the hashtag #fetchpetcare so that we can broadcast your thoughts, too.
Interested in Dog Walking?
Whether you're interested in hiring a professional like Georgia for your dog walking needs or whether you'd like to become a dog walker or a pet sitter yourself, contact us right now to get started!