Meet Our Team
Browse the pictures and profiles of our professional, reliable, and loving pet sitting and dog walking team!
Tammy Wolf - Owner
Hello to all pet lovers, My name is Tammy and I am the owner of Fetch Pet Care Tucson. Growing up, there were always cats in my family. I have raised many generations and with my husband Jim, have had up to 5 cats in our home. Our current generation of brothers, Brutus, Bogart and Bourbon, are all rescue cats and the new loves in our lives. In 2018, a flexible work schedule and my love of pets, led me to Fetch Pet Care. I enjoyed all my regular dogs and cats with all their unique personalities. I even encouraged my semi-retired husband to join Fetch Pet. He too, fell in love and has become Uncle Jim to every pet within his care. Near the end of 2019, the previous owner decided to retire. So with 30 years of sales, marketing and customer service experience, I became the franchise owner in April of 2020. I know, what timing, right? But since that time, we have gained new clients, hired new sitters and expanded our coverage throughout Tucson and the surrounding area. We have also expanded our services to better meet both you and your pets needs. I hope to have the opportunity to meet you and your pets soon. I can't wait to hear about your family!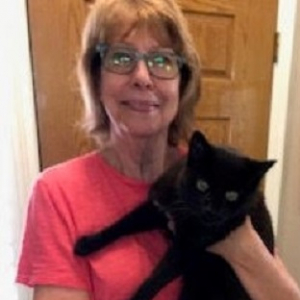 Nancy
I was born and raised in Tucson and moved away when I was 30 years old. After retirement, my husband and I returned because we love Tucson so much. In Reno, I volunteered at the Humane Society of North Nevada. I also worked for Chewy.com which I enjoyed because of the pet connections. All of our fur babies have been rescues and always part of our family!
Audrey
I love to pet sit. I love my fur babies as they bring me so much joy! I help take care of clients dogs that have special needs and can sit 24 hours in your home.
Anna
I relocated to Tucson from the San Francisco Bay Area, and I've been pet sitting for over 17 years (since 2000). I've taken care of all kinds of animals from dog walking and cat sitting to bearded dragons, hedgehogs, and parrots. I currently have one pet, Pickle, a black and white tuxedo cat. I am available mornings, evenings and weekends to pet sit, and overnights in your home. The Central Tucson area and Foothills is the area I do dog walking and cat sitting.
Lupita
I am a native Tucsonian and growing up our family always had at least one dog. The first pet I remember we had was a retired police dog (Shepard), he was so smart and loving. I love all dogs and cats, although I never knew what it was like having a cat until I met my husband (26 yrs ago). We currently have 2 kids and 2 cats -1 rescued Siamese found in a dumpster and 1 adopted a stray cat from a vets office. I service the N.E. Foothills area. I am also bilingual, in Spanish and English.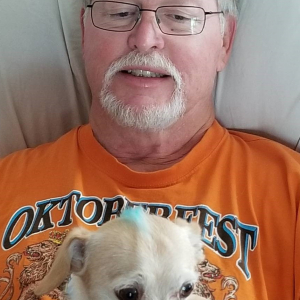 Jim
I love animals and have 3 male cats that I share with my wife. I am the co owner of the business, which is a joy to own. I will take care of your pets as if they are my own.
Katharine
I grew up in Tucson, and while growing up we always had a dog. I also had a succession of hamsters, rats and other small pets to love and care for. I now share my home with Malcolm, a Lab-mix puppy, and Kaylee, an adorable mutt, both rescued by the Humane Society. I am constantly trying to learn as much as possible so that I can be the best possible pet parent. I am excited to use my knowledge, experience and love of animals to serve others in dog walking, cat visits and In-home overnights. Responsible for N. E. Catalina Foothills and S. E. Tucson.
Kathie
I have personally taken care of the owner's pet's for the last 20 years. I'm thrilled to be part of Fetch! Pet Care Tucson officially as of April 2021, as a pet sitter and bookkeeper.
Hannah- Assistant
Hi, I am Hannah George. I recently graduated from the University of Arizona in December of 2021. I graduated with a degree in Veterinary Science. I have been with Fetch! for over a year now, but my pet-care experience does not stop there. I have years of experience with all different kinds of animals. Despite being just a sitter, I also help Tammy out in the office. So when you call us, you might hear from me! Since I was a little girl, I wanted to work with animals, and I am very happy I am living out my dream. I love every animal like my own and cannot wait to care for your babies.
Cate
I'm currently a college student and am a big animal lover. I love taking care of dogs and have cared for many family and friends pets. I'm available for all types of visits and staying at your home.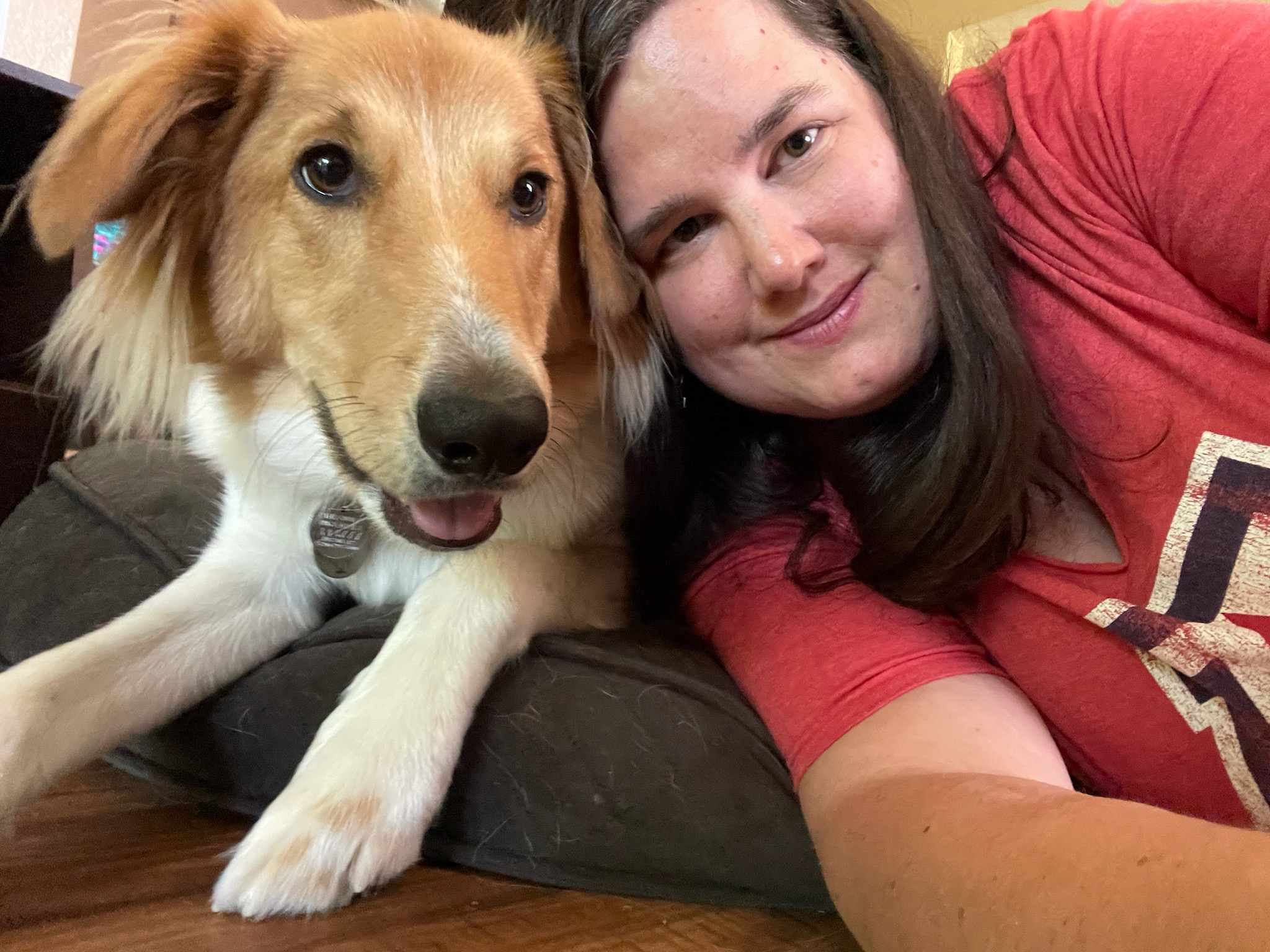 Catherine
Since she was a baby, Catherine grew up with dogs and she is known among her family and friends as a "dog whisper". Catherine is also a doctoral student at Grand Canyon University studying Industrial and Organizational Psychology and is always looking forward to taking care of your furkids as a break from research for her dissertation. She usually covers the Northwest part of Tucson from Saddlebrook, Catalina, Rancho Vistoso, Oro Valley, Casa Adobes, and Marana. Her long-time dream is to buy a ranch and convert it to a dog rescue sanctuary, but she would need to win a Powerball lottery first.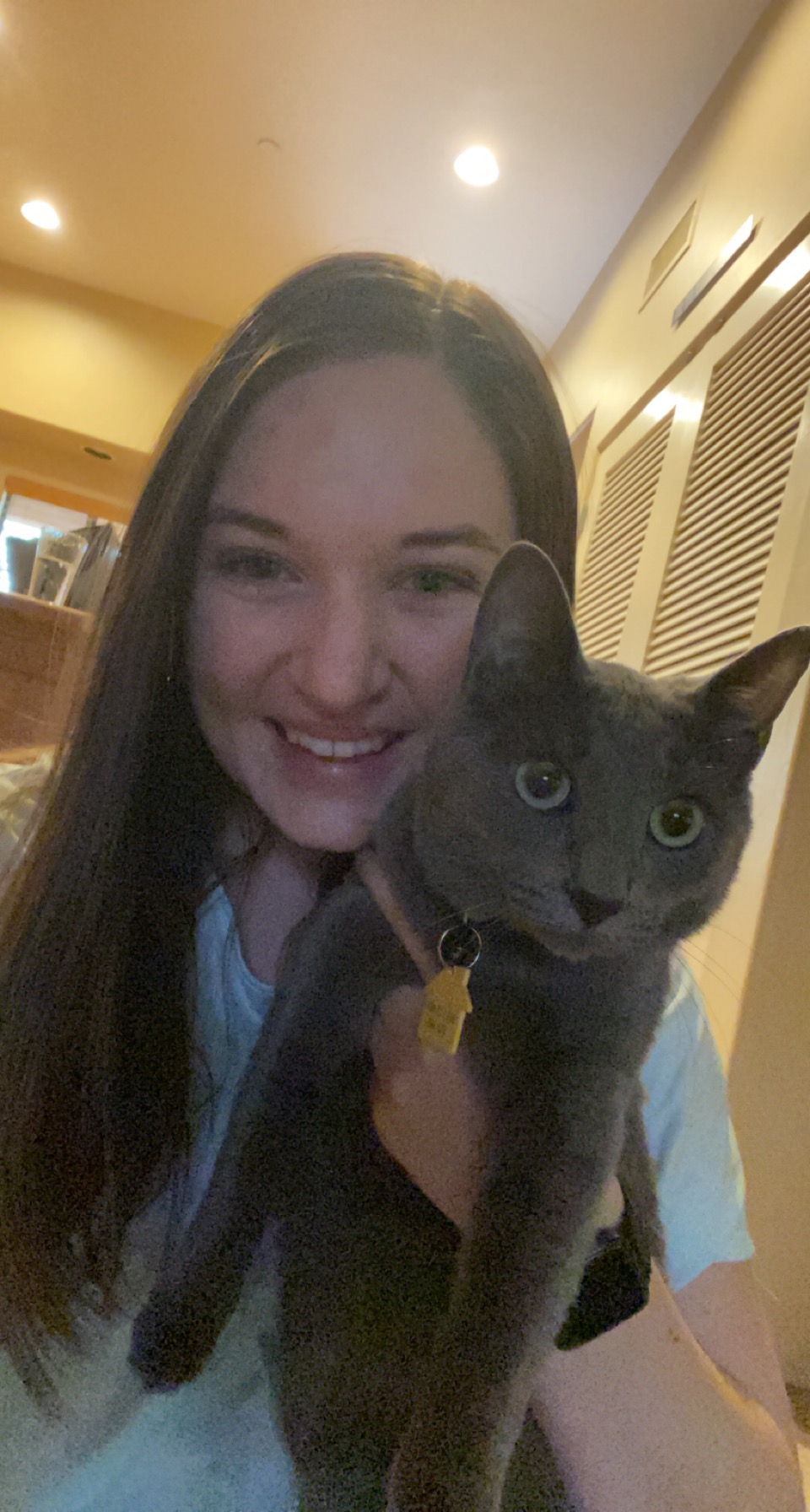 Aimee
I have been caring for pets since I was 12. I can't wait to bring my past experience and help you with your pets. I am familiar with caring for birds, reptiles and farm animals, besides dogs and cats.
Debbie
I have been caring for pets and helping families in Tucson and Sahuarita for many years. I have experience with both dogs and cats. I am available to stay in your home for 24 hours at a time, my specialty.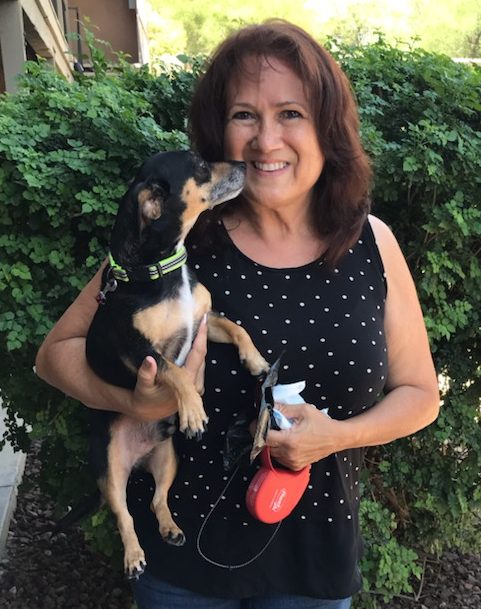 Sylvia
I have owned dogs, cats, a horse and a parrot. Now my love for animals is now for your pets. I will take very good care of them for you. as if they were my own. I love to stay overnight in your home caring for your pets.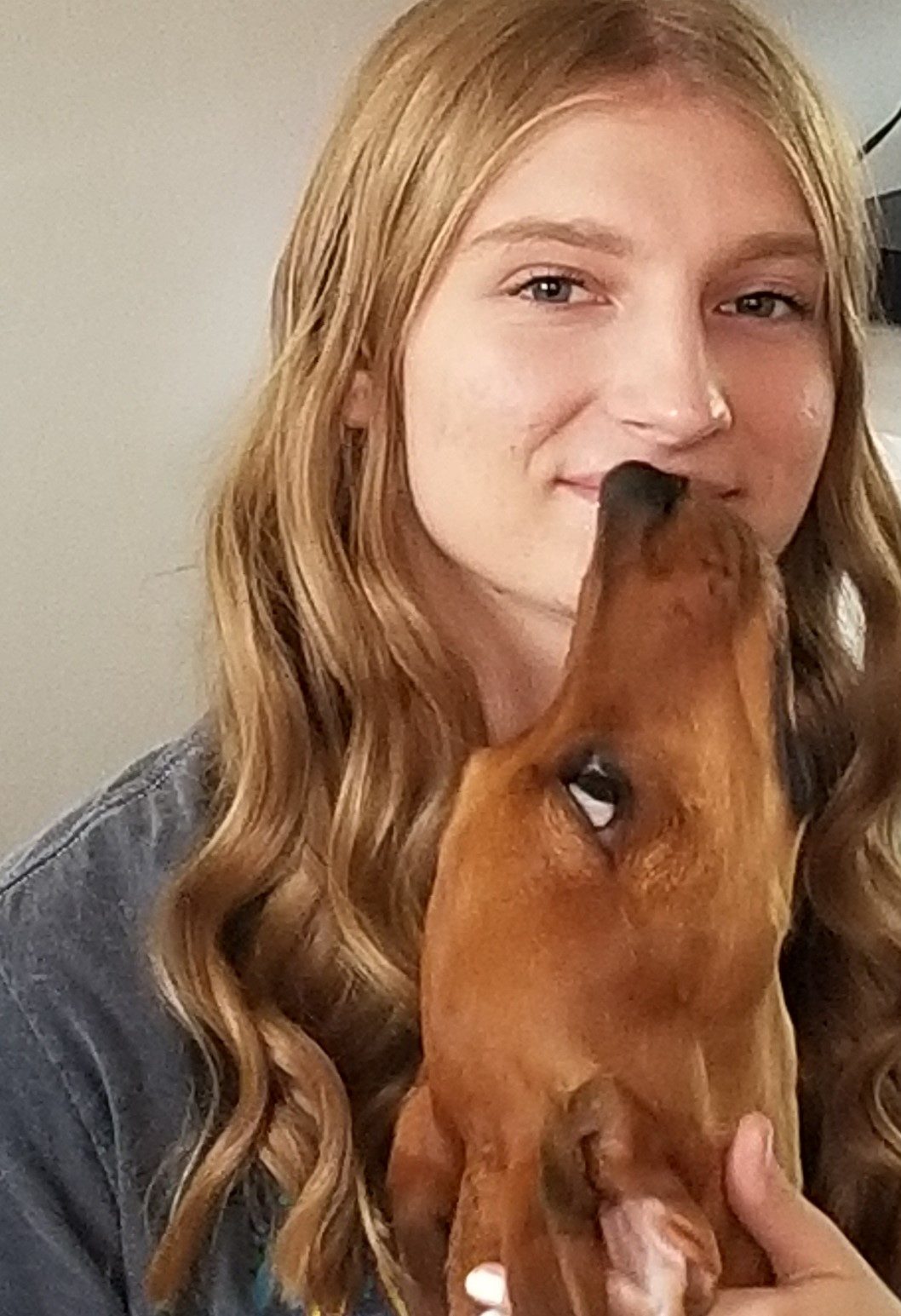 Carolina
I have been working as a pet sitter for the past 4 years. I recently moved to Tucson to attend the U of A to study vet sciences. I look forward to helping with your pet soon! I specialize in horses!
Barbara
I'm a native of Tucson and worked as a teacher for many years. I've had years of experience caring for pets of all kinds. I can't wait to help care for your animals,
Bill
Hello! Meet me and my dog. I have a hospitality background and am recently retired. Looking forward to helping you and your pet.
Amy
I have been and animal lover my whole life. I've cared for many animals from exotics, to cats/dogs, and horses. I can't wait to care for your pets.
Ellen
Greetings! Its been a pleasure and honor working with the Fetch clients, pets, and staff. I am a New York City transplant who enjoys living and learning in the wonderful Sonoran desert. I look forward to meeting your pets and making them safe and content while you are away. I specialize in boarding pets in my home.
Paul
I am an animal lover. I have owned dogs, cats and tortoises. I love to assist others when they need help with their pets. I work in SW Tucson and specialize in boarding your dogs.
Scottie
I have years of experience caring for dogs and cats. What a joy they bring to our lives. Can't wait to meet yours!
Cynthia- Assistant
I'm a military brat and spouse who just moved to Tucson. My current house includes 3 kids and two cats, a dog, and two rats. I had my own pet sitting service several years ago and really enjoyed it. I have a background in social work and am a personal trainer and spin instructor. I love being active and playing with my own pets. I can't wait to meet your treasured family member.
Michael
I'm currently an Army pilot and am transitioning into the guard and will be working at Pinal Airpark. I grew up in CA on a ranch and was often taking care of animals. My wife Cynthia will be pet sitting also. We look forward to caring for your family members.
Casey
I grew up in Southern California and have always loved dogs since childhood. Now I am mommy to two furkids, Ollie, a border collie mix, and Onyx, a black lab. I graduated from Gallaudet University with a bachelor's in Communication Studies and I'm currently studying for a post-doc certification in Human Resources at Pima Community College. I have been a long-time advocate for the disabilities' rights to equal and open access, specifically, for the Deaf, Hard of Hearing, and DeafBlind communities. I will love your pets as if they are my own!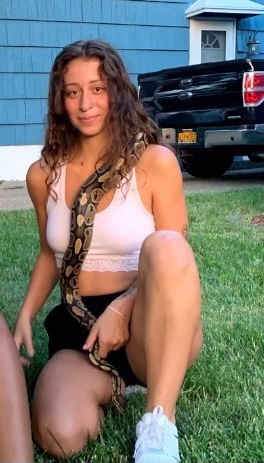 Mia
I am an animal lover and have always been passionate about animals of every kind. I have a wide range of experience with all types of domesticated animals. reptiles and farm animals. There is not one pet that I'm allergic too or afraid of in any way. I feel I have a way with them and can understand them. I can't wait to meet yours. I am a veteran, who recently welcomed my first child.
Stephanie
I love animals and have my own property with lots of land for animals to run around. I have a degree in Animal and Equine Science from Colorado State University. I'm a certified vet tech qualified to administer medications. I previously owned my own pet sitting and grooming business for 7 years. I recently moved to AZ and work from home as a private investigator.
Erik
I'm an experienced dog owner and pet lover. I've previously worked at several animal shelters from Hawaii all the way to Pima Animal Care Center. I've also worked as an animal control officer and admissions counselor. I am experienced in handling difficult pets and providing enrichment for them. I also work with horses at a ranch on weekends.
Maggie
I've been a caretaker for the past 14 years and was previously a dog walker when I was pregnant while living in Boston. I love taking care of people and pets. I am an experienced pet owner and cannot wait to take care of your furry family members.
Kat
I'm a veteran with professional experience working with pets as a kennel assistant in several animal clinics. I've worked with all kinds of animals and have extensive experience. I've always had pets and love them dearly. I can't wait to take care of your pets like my own.
Lori
I've been a pet foster parent for over 150 dogs and cats. I have worked with rescue groups in FL and currently foster with the Humane Society as well as volunteer with Rescue Me Marana. I will be available to drop in visits and hosting other pets in my home (as long as they are cat friendly). Look forward to meeting you.
Ben
I'm a hard worker who loves taking care of animals. I've grown up with pets my whole life and help my mom care for her four dogs and I have a new kitten. I'm currently working on getting my helicopter pilots license and work a variety of school programs with elementary kids. I'm very passionate about pets and can't wait to work with yours.
Janet
I am a Vet Tech of over 10 years. I am very comfortable with senior and special needs dogs. I have experience providing injections and giving meds. I am also trained in canine, feline, and exotic CPR. All my own fur babies have lived past the age of 16 years old. I had a very successful pet sitting service while living in Indianapolis. I am punctual and reliable. Most of all I just love taking care of my clients pets as if they are my own.
Mark
I am a retired grandpa looking to keep myself active. I love animals and currently have two dogs who are my life. I am also a proud grandpa who regularly takes care of my grandkids. I am available for all services and will do boarding at my home.
Maria
I've been a Fetch! client for awhile and decided while I'm not traveling I'd like to provide an enriching home to other dogs while their owners are away. I've worked and volunteered in animal shelters and wildlife centers across the country for over 30 years. I'm primarily available for pet boarding in my home as long as your pup gets along with mine.
Darlene
After using Fetch! for my own pets I decided to become a sitter. I have owned pets my whole life. I often help take care of my family and friends pets when they are away. I can't wait to make your pets feel safe and well taken care of while their owners are traveling.
Vanessa
I had a pet care business for 9 years before moving to Tucson 17 years ago. I currently work from home as a medical biller and am at home most of the day. I also have experience in medication and fluid administration. I treat any animals in my care just as I would my own.
Seth
I have worked with animals since I was young and was trained and licensed as a handler for AKC and Eukanuba dog shows. I've got experience with all kinds of other animals such as reptiles and birds as well. I can do medication administration and have a ton of pet experience. I have three little dogs of my own who I love.
Lori P
I love working with animals and have had pets my entire life. I currently own a 19 year old cat after having recently lost my other two due to their old age. Helping to take care of other pets is helping me heal from the loss. I am well versed at giving medications and giving all animals love and attention.
Valerie
I am an animal lover and both my kitties are rescues. I rescued one from the streets of NYC and bottle fed her. I have volunteered with pet rescue organizations all over the country. I work in the film industry and travel often so having a dog full time isn't possible right now so I'm very excited to have pet visitors when I'm here. I'm also a Fetch! client. Can't wait to meet your furbabies.