Meet Our Team
Browse the pictures and profiles of our professional, reliable, and loving pet sitting and dog walking team!
Lyndsey
Boulder: Hi pet owners! I'm Lyndsey and I am a Senior at CU Boulder studying Architecture. I began caring for animals at a young age. I grew up in Michigan with two sassy corgis, a hedgehog, and many horses and cows. Being around animals always brightens my day. In my free time I love to hike, spend time with friends and paint! I cannot wait for the day I am able to adopt an animal of my own after college. In the meantime, I look forward to meeting you and your pets soon! "
Ariana
Boulder, Erie: Hi! I'm Ariana, an energy worker who also loves working with animals! I have a pooch of my own who is getting old now but he's still super fun. I love meeting new furry friends and seeing how I can be of assistance to them in any way possible! I can't wait to meet your precious animals and get to be a part of their lives bringing them joy. "Very friendly and caring staff that left detailed photo/journal entries every visit for both pets. Felt like they were deeply cared for and well taken care of while I was away. Would recommend them to anyone in need of a trusted pet sitter!!" Autumn E. Louisville, CO "Ariana is always on time and does a wonderful job with Daisy, who isn't an easy dog. She's a wild child. I like the pictures and comments on how the walks went." Pam A. Boulder, CO
Brooks
Boulder, Louisville, Superior: Hello, my name is Brooks. I spent my childhood in an animal-filled household and couldn't imagine having it any other way! I worked at the Leon County Humane Society for three years in my hometown of Tallahassee, FL. I am happy to care for dogs and cats of any breed. Special services: senior pets, special-needs dogs. "Friendly, organized, patient with me and my pets, easy to work with, instilled much confidence that they'd do a great job caring for my pets, very communicative……put simply, they're everything you hope for in a pet care organization and can seldom find all in one company!" Bobbi R. Boulder, CO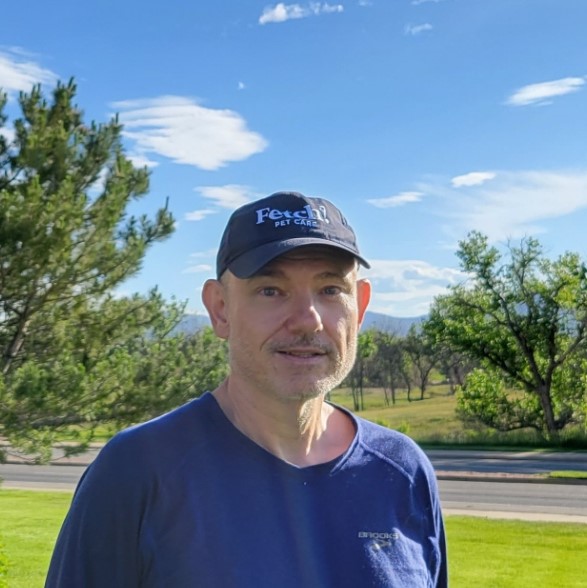 Andrew
Broomfield, Boulder, Superior: Hello pet parents, my name is Andrew. I'm a retired engineer and have recently taking up pet sitting as my new retirement vocation. I love dogs and exploring the local trails with them, and I absolutely love cats having owned them since 1993. Pet sitting is the best of both worlds combining two of my biggest passions, pets and exercise! I look forward to getting to know you and your pets and providing them with excellent loving care. Special services: Injections, elderly cats. "Fetch! is great! It is easy to use the app to book the services. I appreciate that I receive pictures and a summary of what occurred during each service with my cat and how she is doing while I am on vacation. I was out of the country during the recent extreme cold spell and it was very comforting to be able to text Andrew and ask him to take some steps in my home such as opening up cabinets, turning on water to drip with the faucets, etc. so that my pipes did not freeze. All of this helped to ensure that I could relax on my vacation." Natalie M. Broomfield, CO
Stacey
Longmont: Hi my name is Stacey. Like many, my love of pets goes back to my childhood. I was raised on a farm in Kansas with all kinds of pets. In a room full of people, I'm the one that gets down on the floor and talk to the dogs! I have a passion for rescue dogs and providing loving homes for elderly pets but I have experience caring for pets in all stages of life, health, and wellness. Every pet is special in their own way and deserves unadulterated love and acceptance. I form strong connections to any animals that are a part of my life and look forward to doing the same with yours. Special services: Elderly pets "Stacey is amazing. Our dogs look so forward to seeing her. She loves them like her own. We love her sense of humor, anecdotes and pictures! We feel so fortunate to have found her and Fetch!" Judy S. Longmont, CO
Sabine
Boulder: Hi, I'm Sabine, a recent psychology grad from CU Boulder. My whole life, I have had dogs and other animals as part of my family. I love animals so much that I used to volunteer at the Humane Society in Longmont and in Boulder for 5 years, which was an amazing experience. I'm excited to be able to work with animals more, and I can't wait to meet your furry family members! "The recommendation of Fetch came to me from Alpine Animal Hospital for Animals - my trusted source for all things 'dog' in our life. From start to my return home, every aspect of the care of my eight year old Golden was exactly what I had asked of them. The daily entries were fun. She was well cared for and had lots of variety in her outdoor time, which is important for her happiness and mine. Communication was prompt, clear and spot on with regard to the level of understanding. I will call on them again for certain." B.J.R. Boulder, CO
Jett
Longmont: Legendary dog walker of La Cruz De Huanacaxtle Mexico Winter of 2017. Really! I spent five months in Mexico and over the winter in this sleepy fishing village's marina that fills up with travelers escaping the cold. One dog and houseboat care gig led to another and voila! I made a name for myself as the go to dog walker and pet sitter. This is my second time living in the front range, last time I worked for a family-owned overnight stay location for medium to large dogs outside of Boulder. It was wonderful and I loved it! I hope I have the opportunity to care for your pet soon and shower them with LOVE and attention.
Tensi
Longmont: Hi! After living in Europe for 20 years I returned home to the US in 1996. I lived in Paonia, Boulder and currently live in Longmont. I love Colorado as my chosen home! I was raised with cats, dogs and parakeets, not all at the same time. I am currently caring for a rescued tabby cat and my previous pet was a sweet poodle mix named Maggie who I loved to love for 11 years. I look forward to providing loving care for your pets too! "Tensi did an excellent job, and my dog who can be a handful warmed right up to them, I am not using any other service from now on, so convenient and cost effective." Brian H. Longmont, CO
Zoe
Longmont, Firestone, Frederick: Hi, I've grown up surrounded by all sorts of pets, fueling my love for any and all animals. I'm an aspiring Wildlife Biologist attending Front Range Community College. From rescuing mice, geese, or whatever else I may stumble across in need, to spending over a hundred hours in the Longmont Humane Society, I love and care for all living beings. I can't wait to meet and care for your furry, scaly, or small friends! Special services: Small paws care
Abigail
Longmont, Firestone, Frederick: Hello, I'm Abigail! I've grown up with many animals big and small and I love being around them. I currently have two dogs of my own that I shower with love. In addition to pet sitting, I am a dental assistant. I can't wait to meet you and make more pet friends! "We moved to Colorado a few months ago and one of our biggest worries was finding a dog sitter/service who we would trust as much as our old one. Fetch has absolutely surpassed all of our expectations. Louie, our golden loves Abigail at Fetch. Cannot recommend enough!!" Elizabeth R. Lafayette, CO
Sandy
Longmont: Hello, I was farm raised in Iowa and I'm happy to now call Colorado home. I'm an animal lover of all kinds but have a real love for cats. I'd love to take care of your fuzzy four legged family members! Special services: Farm sitting "We love Fetch Pet Care! The whole team really really cares about our fur babies and feather babies. We have a small farm with lots of critters and Fetch takes care of all of them! Thank you!" Julia D. Berthoud, CO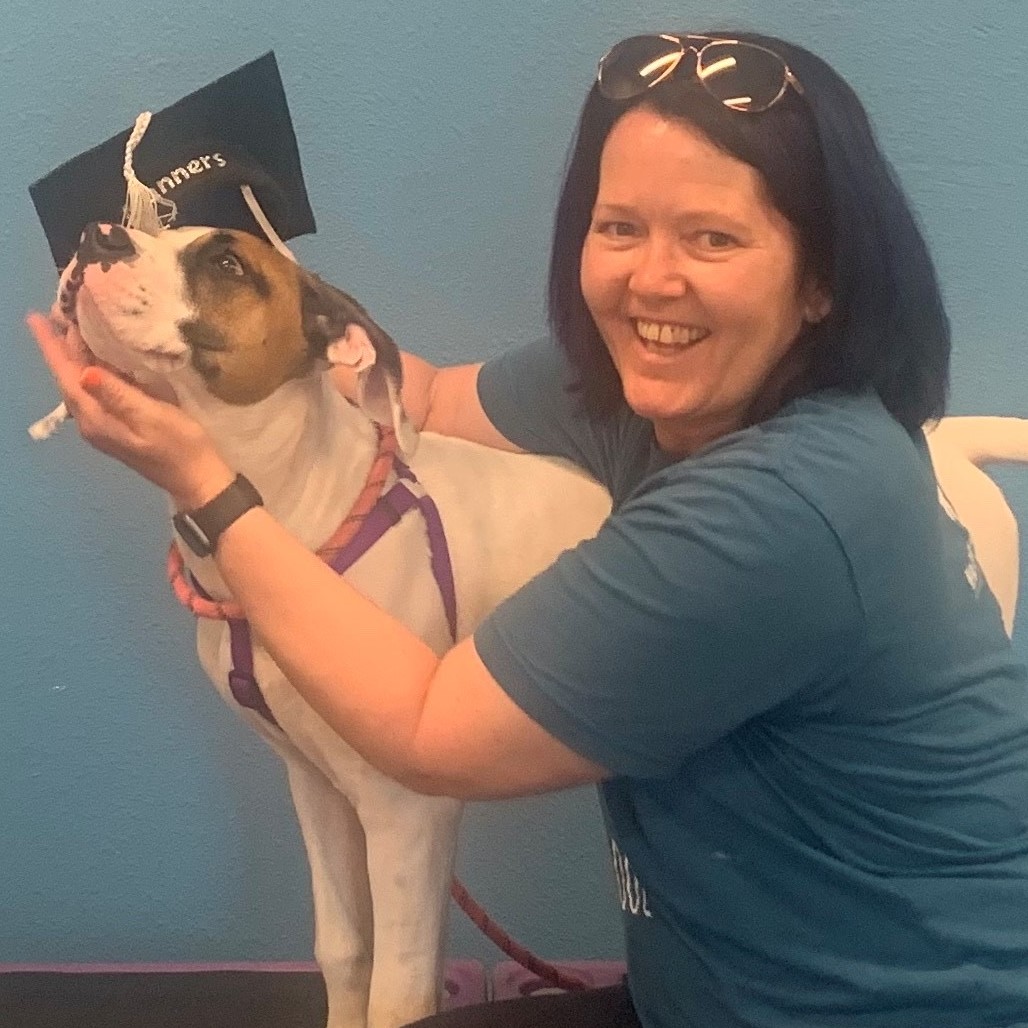 Penny
Loveland: Hi my name is Penny and I have been an animal lover all my life from growing up on a pig farm to volunteering at shelters and rescues. I work remotely in the title industry and in my spare time I love to help people find their new furry companion through adoption. I have worked at, and owned a pet sitting business, and love spending time with all the animals while their owners are away. I have 3 large dogs, 8 chickens, fish and a hamster. I look forward to spending time with your pets making sure they are well cared for and loved like a family member. Special services: High energy, shy, or anxious dogs.
Certified, because We Love 'Em Like You Do!
We come from all walks of life but share one thing in common, we all love animals big and small and take joy in providing them excellent care.
Our shared mission is to provide quality pet care when pet owners need a helping hand caring for their furry family members. The Fetch! Pet Care Twin Peaks team will support you when you travel, need a midday visit, or have a vet or puppy play date appointment.
Some of us are Colorado natives, some grew up on a farm, and some are proud to call Colorado our new forever home. We bring a wealth of experience to your dog walking or pet sitting needs. We have experience stretching from small paws, to big and small dogs, to horses and farm animals, and one of us even lays claim to "cat whisperer."
All Twin Peaks pack members are employees, experienced, insured, and background checked. As a pet owner, you can relax and trust the trained Fetch! team with your furry family members.
Why Hire a Professional Pet Sitter?
Professional pet sitters always have a back-up plan and leave nothing to chance. When you hire a professional service like Fetch! we will provide backup if some unforeseen event makes it impossible for the primary caregiver to make the visit. You never have to worry about "what if?'
Professional pet sitters have a communication plan and process. Fetch! provides daily communication and reassurance through journal entries and daily photos of your pet while you are away and alerting you immediately to any problems that may come up.
Professional pet sitters are just that, pros, and are accountable. Fetch! pet sitters are caring employees that are thoroughly vetted, held to high standards, and report directly to the local owner who lives in Boulder County and meets every new pet in person.
A professional pet service, like Fetch!, carries liability insurance for your pet and your property, and providers workers comp insurance for their employees. Taking the worry off you!